Killing Mobs Can Spawn Structures DataPack 1.20.2, 1.19.4, 1.18.2
Killing Mobs Can Spawn Structures DataPack 1.20.2 is a unique modification that will allow you to spawn structures in your world. Whenever you will be killing some mobs, It will have around 60% chance to spawn structures into your Minecraft World. Some mobs will also be excluded that will be illagers, blazes, enderman and shulkers.
This Data Pack tries to change your world in the survival mode by making things easier. Because it will try to let you have bigger structures in a short amount of time. You will only have to kill the specific mobs to be able to have structures in your world. By having 60% chances it means that ten out of six mobs will be bringing structures into this game. It also works in the survival mode. It have been developed by the Terroid.
Killing Mobs Can Spawn Structures Datapack Features:
Gives you 60% chance to spawn structures.
Not works on illager, shulkers and enderman.
Mostly spawns bigger structures in Minecraft.
Killing Mobs Can Spawn Structures Datapack Settings:
Commands that can be used for this Data Pack.
Reload the Data Pack command /reload.
If Data Pack is installed correctly command to show the list /datapack list.
Screenshots: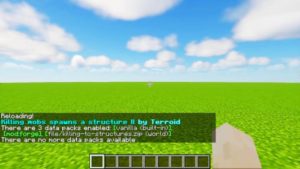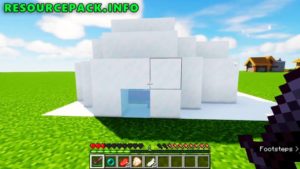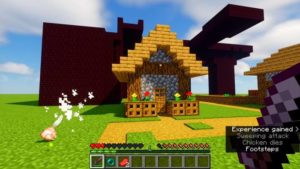 Installation with the Gameplay:
Download Killing Mobs Can Spawn Structures Datapack for 1.20.2: 
For Minecraft 1.17.1:
How to Install This Datapack:
Download the Data Pack.
Create a Minecraft World.
Then Save the Minecraft World.
Click on the Saved Minecraft World.
Then Click on Edit.
Open the Worlds Folder.
Put the Downloaded Data Pack into Data Packs folder.
Then click on the Save.
Try opening your Saved Minecraft World.
Using this Command: /datapack list.
If it does not show that you have no Data Packs, Then we might think you have not installed it correctly.
Shift and Click to Mine the Ore.
Disclaimer:
We usually do try to take very good care of the downloaded links that are also available here. But occasionally developer of the Original download links remove their links from the Third party websites. In that situation we will require some assistance in this regard. So Please inform us if you find any broken links or content in the comments section. We will try to have the working links as soon as possible, We are updating these Resource packs regularly and If you find any broken or fake download links or deleted ones kindly comment and also let us know. We also do try to give all the genuine links for our contents.