Hyper Realistic Sky Resource Pack for 1.20.2 – 1.19.4 – Pretty Skies
Hyper Realistic Sky Resource Pack for 1.20.2 is a very realistic and sky themed Resource Pack. It will also provide different kinds of skies throughout the game. You will be getting clouds at the daytime that have been rendered to look very realistic as possible.  You will be getting high resolution of 1024×1024 in this pack. It have been developed by the UsernameGeri.
This Resource Pack will be mainly focused on to make things better for default looking skies that you have been seeing throughout the game. Sunset will be looking marvelous that you're waking up in the Minecraft world. Night time sky will be looking dark and realistic as possible in order to provide some realistic experience. You will be getting an additional raining skies, It will be raining from the clouds to look real as possible. We have never seen exquisite auroras before.  Custom skies will be requiring Optifine in order to make them working. Counter rotating star background that will be providing celestial feeling into the game.  All four biomes will be getting their own unique clouds.  Realistic 3D atmosphere will provide in-depth gaming experience.  Clouds will be featuring their own in-depth and density.
Hyper Realistic Sky Resource Pack Updatelogs for 1.20.2:
New Elegant and Custom Skies.
Added Auroras and Day time Sky.
Updated Sunrise and Sunset.
Rain and thundestorms will have their own clouds.
Clouds will be slowly and flawlessly fade into the vanilla fog.
Auroras will be coming with northern lights.
Added Clouds and Rainfall.
New Custom End Sky.
Screenshots: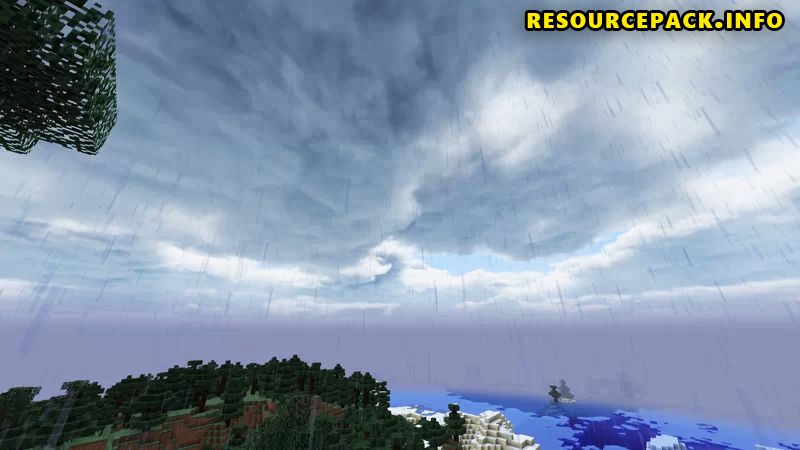 Download Hyper Realistic Sky Resource Pack for 1.20.2:
For Minecraft 1.20.1:
Minecraft 1.19.4:
For Minecraft 1.18.2:
How to Install This Resource Pack: 
Few simple steps to Install this Resource Pack.
Download this Resource Pack.
You will get a .zip file for this Resource Pack.
You will have to open the %appdata% folder.
Then you will have to go to .minecraft folder.
You will have to go to Resource Pack Folder.
Move the downloaded .zip file into that folder.
After it then you will have to run Minecraft after placing the .zip file.
Then You will have to Open Minecraft.
Have fun while playing with Friends.
Note:
We do Recommend you to Download and install  OptiFine HD to enhance your gaming experience with Shaders.
Disclaimer:
We will always try to take good care of the links that will be found and available  here. But various times the Original developer removes their links from the Third Party Websites and post them somewhere else. In that case we might require some assistance from the users of this website in this regard. Please do Inform us, If you found any deleted or broken content in the comments by the below of the post. We will try to quickly upload the working links as possible., We always try to upload and update the posts that will be found available on this website. But If you do find some deleted, broken links that can possibly have virus or deleted ones, Please let us know immediately in the Comments Section Below. We always provide genuine and scan the links before providing us to the users.