Jumping Give Random Items Datapack 1.20.2 – 1.19.4 Jump will Provide Items
Jumping Give Random Items Datapack 1.20.2 is an amazing modification that allows you to have items whenever you jump. Every jump will be providing the items, If you jump five times in a row that will provide five items in the game. It also works in the survival mode within few steps. It have been built by the Awhikax.
This Data Pack will be giving items to the players in a easy way. Just a few jumps you will be getting many good items that takes an hour to craft in the survival mode. Many players will love this Data Pack in their servers to enjoy the game perfectly. What are you waiting for, Try to grab this Data Pack and try the experience of simple gameplay with unique items.
Jumping Give Random Items Datapack Features:
Jumping will be giving Random Items.
Each and every jump will grant you one item.
Many jumps will grant many items in the game.
Jumping Give Random Items Datapack Settings:
Required Commands to use in the game.
Reloading the Datapack will be /reload.
Finding Datapacks that have been used? /datapack list.
Screenshots: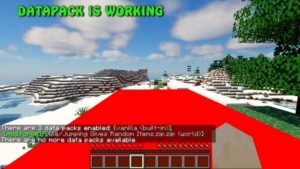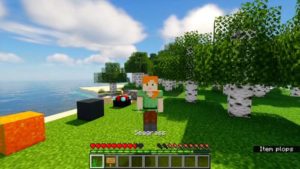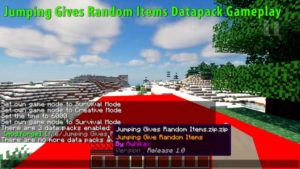 Installation and Gameplay:
Jumping Give Random Items Datapack for 1.20.2: 
For Minecraft 1.19.4:
How to Install This Datapack:
Download the Data Pack.
Create a Minecraft World.
Then Save the Minecraft World.
Click on the Saved Minecraft World.
Then Click on Edit.
Open the Worlds Folder.
Put the Downloaded Data Pack into Data Packs folder.
Then click on the Save.
Try opening your Saved Minecraft World.
Using this Command: /datapack list.
If it does not show that you have no Data Packs, Then we might think you have not installed it correctly.
Shift and Click to Mine the Ore.
Disclaimer:
We usually do try to take very good care of the downloaded links that are also available here. But occasionally developer of the Original download links remove their links from the Third party websites. In that situation we will require some assistance in this regard. So Please inform us if you find any broken links or content in the comments section. We will try to have the working links as soon as possible, We are updating these Resource packs regularly and If you find any broken or fake download links or deleted ones kindly comment and also let us know. We also do try to give all the genuine links for our contents.