FeatherCloud Deluxe Resource Pack for 1.20.2 – 1.19.4 – 1.18.2
FeatherCloud Deluxe Resource Pack for 1.20.2 is a very smooth and simplistic styled Resource pack. It comes in a resolution of 128×128 in this Resource pack. This Resource pack was started about four years ago, It has been only 75% completed and further improvements will be coming in the newer updates soon. It was designed by Jnaejnae.

This Resource pack will have bright colors and a high resolution with dark minimalistic hud compliments and  design. It will have a great amount of details and the color pattern will be looking bright and vibrant that will be mixed with the clean visuals in this game.This Resource pack will make the GUI and the atmosphere both to be looking more appealing. It is a high definition Resource pack and textures will be very detailed but it will look simplistic because of its resolution 128×128.
FeatherCloud Deluxe Resource Pack Updatelogs:
Added Terracotta and Concrete.
Added Menu arrows and Recipe menu.
New Boats and more hud elements.
New Custom Font and Furnace.
Improved Iron Ore and Iron Block.
Improved Gold Ore and Obsidian.
Added Glowstone and Redstone lamps.
Added Brick and Command block.
New Bookshelves and Mossy Cobblestone.
Screenshots: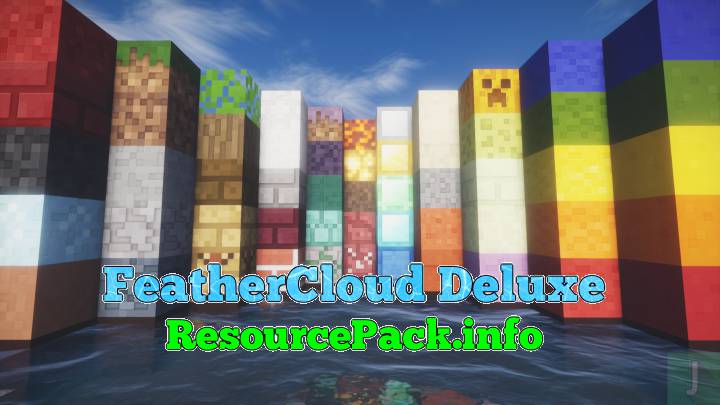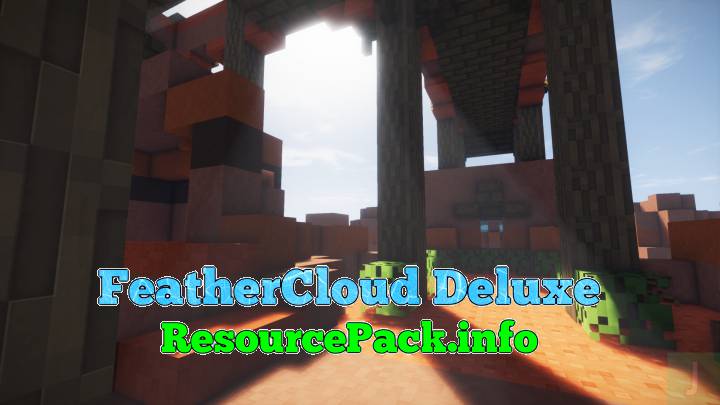 Download FeatherCloud Deluxe Resource Pack:
For Minecraft 1.12.2:
For Minecraft 1.7.10/1.6.4:
How to Install This Resource Pack:
You will have to Download this Resource Pack.
After that You will have to get a .zip/rar file for this Resource Pack.
You will have to Open the Resource packs folder.
Open the folder where you have downloaded this file.
Copy the downloaded .zip/rar file and then go and open Minecraft.
Click on the options and then open Resource pack.
Then go and open the Resource pack folder.
Then move the downloaded .zip/rar file into that folder.
You will also have to open and run Minecraft after placing the .zip/rar file.
Enjoy and Have fun while playing this game.
Note:
We will Suggest you to Download and install  OptiFine HD or MCPatcher HD for this Resource pack.
Disclaimer:
We usually do try to take very good care of the downloaded links that are also available here. But occasionally developer of the Original download links remove their links from the Third party websites. In that situation we will require some assistance in this regard. So Please inform us if you find any broken links or content in the comments section. We will try to have the working links as soon as possible, We are updating these Resource packs regularly and If you find any broken or fake download links or deleted ones kindly comment and also let us know. We also do try to give all the genuine links for our contents.