Excalibur Resource Pack for (1.19.3, 1.18.2, 1.17.1)
Excalibur Resource Pack for 1.19.3 is a realistic and dark medieval themed Resource pack. It was designed to enhance your basic Minecraft while adding some fantasy and medieval elements. It has a low resolution of 16×16 and it can easily work on every computer. This Resource Pack was developed by Maffhew.

This Resource pack will also do try to bring your villagers to life and kingdom to attract the players to have default resolution textures. The author of this Resource pack did not liked the RPG and medieval themed Resource pack so then he tried to make Chivalry that also does not satifisy his needs, Then he developed this awesome  Resource pack to bring joy into your game.
Excalibur Resource Pack Features:
New Chain armor boots item.
Added Shulker boxes and Colored beds.
Improved Sunflower and Pumpkin.
New Spiders and Foxes.
Fixed Sponge and Bedrock.
Fixed Glowstone and Stained glass.
New Break animation and Title screen.
Improved Wool colors and Skybox.
Screenshots: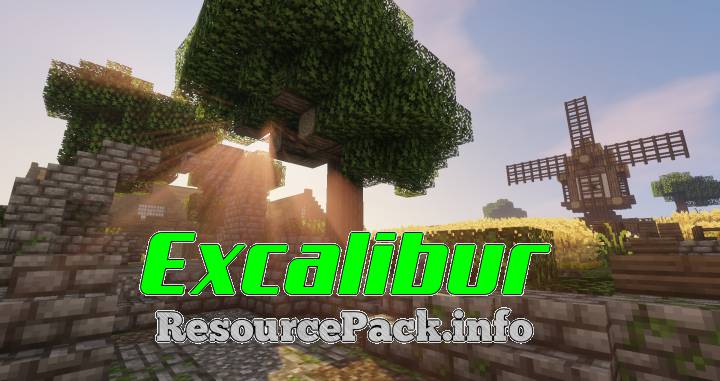 Download Excalibur Resource Pack:
For Minecraft 1.18.1:
Minecraft 1.17.1:
For Minecraft 1.16.5:
Minecraft 1.15.2:
For Minecraft 1.14.4:
For Minecraft 1.13.2:
Minecraft 1.12.2:
How to Install This Resource Pack:
You have to Download Excalibur Resource Pack.
After it then now you will have to go and open your Resource pack folder.
Then you have to go to the folder where you have downloaded the file.
Copy the downloaded .rar file and then go and open Minecraft.
Click on the options and then you have to go to Resource pack.
Now and then you will have to go and then open the Resource pack folder.
Drag and drop the downloaded .rar file into that folder.
Have fun while you will be playing this game.
Note:
You will have to Download and install  OptiFine HD or MCPatcher HD for this Resource pack.
Disclaimer:
We usually do try to take very good care of the downloaded links that are also available here. But occasionally developer of the Original download links remove their links from the Third party websites. In that situation we will require some assistance in this regard. So Please inform us if you find any broken links or content in the comments section. We will try to have the working links as soon as possible, We are updating these Resource packs regularly and If you find any broken or fake download links or deleted ones kindly comment and also let us know. We also do try to give all the genuine links for our contents.