Reimagined Resource Pack for 1.20.3 – 1.19.4 – Simple Minecraft
Reimagined Resource Pack for 1.20.3 is a simplistic styled that will bring various types of animated potraits with their original paintings in this game. This Resource Pack will provide a 16×16 resolution that will be easy to maintain.  This Resource Pack was initiated approximately 11 years ago, and it has been one of the lengthiest and most frequently updated packs available for Minecraft. The Reijvi is the creator of this Resource Pack
The goal of Reimagined is to provide a fully immersive experience within Minecraft's cubic world, while remaining faithful to the game's fundamental simplicity and atmosphere. As the name implies, Reimagined offers a revitalized take on Minecraft. It also aims to create a more vibrant and dynamic gaming Minecraft world. It will be a large-scale resource pack that will be boasting hundreds of features. They will also include randomized block with their own mob variants. You will be getting animated items and also blocks. With their consistent color palettes, pixel consistency, and numerous updated textures and models.
Reimagined Resource Pack Recent Changes:
Implemented preliminary border ctm for normal ice (further improvements pending).
Added side ctm with border for all types of planks.
Included support for skin animation shader.
Added an item rotation shader for GUI.
Added animation to enchanting table.
Reimagined the wheat, updated the final growth stage of the wheat crop, item, and haybale.
-Adjusted the oak leaves to have varying tints depending on their distance from the log (natural leaves only).
Improved water transparency.
Revamped the Reimagined farmland with updated side and top textures and a new model.
Modified TNT top texture to include more gunpowder.
Fixed inconsistency in flower pot texture.
Resolved z-fighting problem in simplified lantern model.
Temporarily removed the blue Reimagined fog.
Updated Reimagined's pack.png logo.
Images: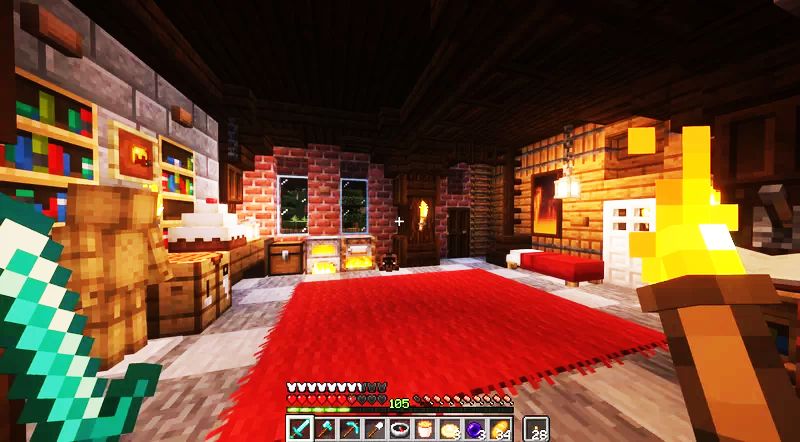 Download Reimagined Resource Pack for 1.20.3:
For Minecraft 1.20.1:
Minecraft 1.19.4:
For Minecraft 1.18.2:
For Minecraft 1.17.1:
Minecraft 1.16.5:
How to Install This Resource Pack: 
Download this Resource Pack.
Unzip the downloaded file.
Open the %appdata% folder on your computer.
Navigate to the .minecraft folder.
Locate the Resource Pack folder.
Move the unzipped Resource Pack file into the folder.
Launch Minecraft and select the pack from the Resource Packs menu.
Enjoy playing with the new Resource Pack.
It is recommended that you download and install OptiFine HD in order to enhance your gaming experience with shaders
Disclaimer:
We look after the links we provide here, but sometimes the links may not work if the developers remove them from other websites. If you find any broken links or content, please tell us in the comments below, and we will try to give you new links that work. We update these resources regularly and only give links that are genuine. We request you to use the comment section, Whenever a link is not working or found deleted.