Big Brain GUI Resource Pack 1.20.2 – Smart InfoPanels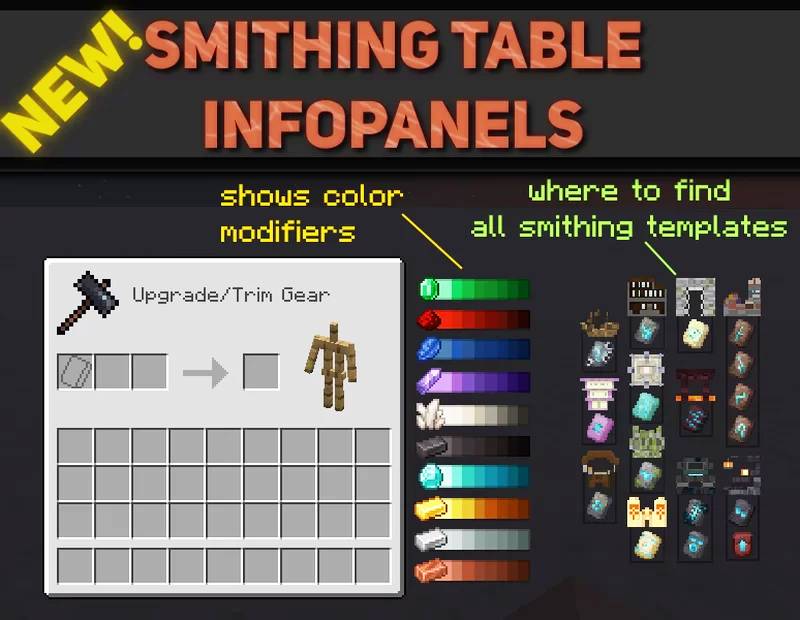 Big Brain GUI Resource Pack 1.20.2 will be typically based on providing solutions for the trades that are made with wandering and village trader. It will be providing you a simple resolution of 16×16 in this pack.  It has been 100% completed as of now, But we think that a few minor changes will be in the newer verison. This Resource Pack have been built by the Silver Coin.
This Resource Pack will never ask you to recall your potion ingredients or find it difficult to determine the values for smelting items. You will never forget about the amount of things requiring for the trades. With the help of this Big Brain GUI, all of these issues are resolved through custom info panels designed for easy and quick reference. You can say goodbye to your brain memory, Because Big Brain GUI will solve the problems for you in a elegant manner.
 Big Brain GUI Resource Pack Updates for 1.20.1:
New Custom Overlay Info Panels and Brewing Stand GUI.
Added Custom Overlay Info Panels for the Smithing Table.
Replaces Beacon GUI and Villager Trade Screen.
New Cartography Info Panel and Villager Trade Info Panel.
Catalog for about 13 GUI added for Wandering Trader and Villagers.
Images: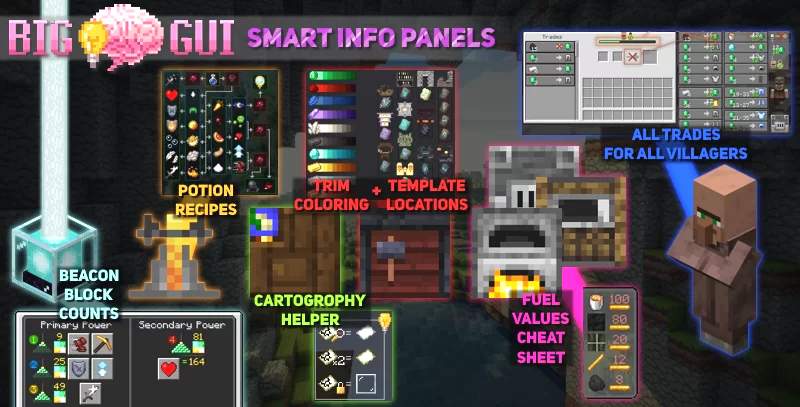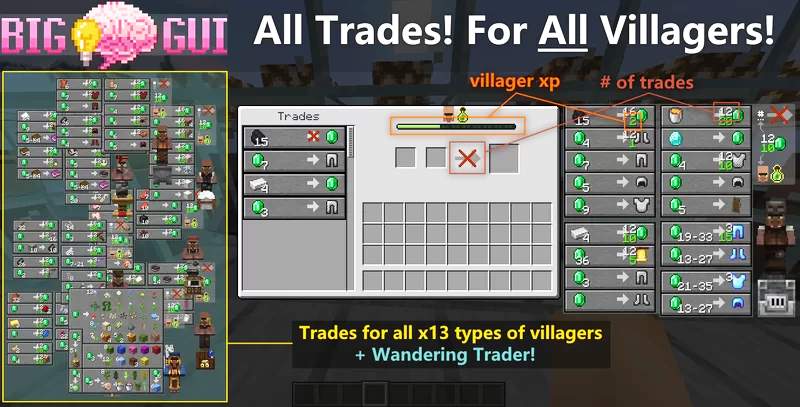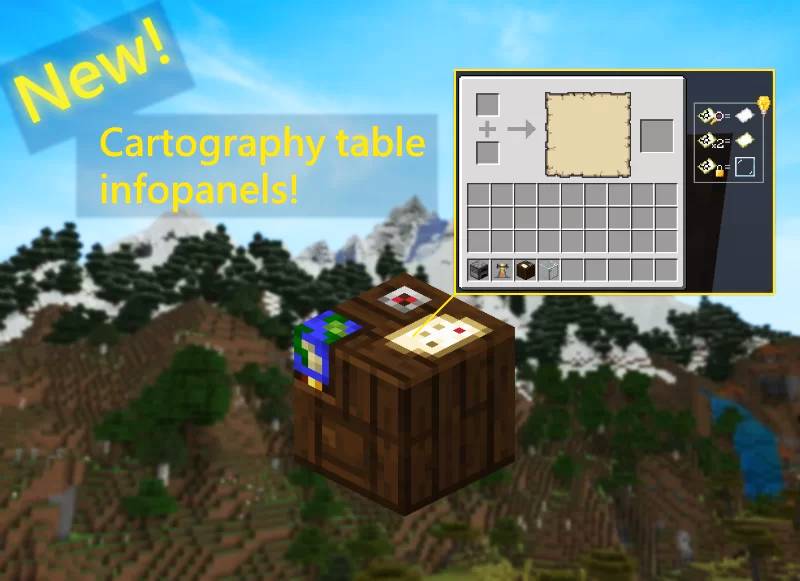 Download Big Brain GUI Resource Pack for 1.20.2:
For Minecraft 1.20.1:
How to Install This Resource Pack: 
Follow this few simple steps for Installation for any Resource Pack.
Step 1: Download this Resource Pack.
Step 2: You will get a .zip file for this Resource Pack.
Step 3: You will have to open the %appdata% folder.
Step 4: Then you will have to go to .minecraft folder.
Step 5: You will have to go to Resource Pack Folder.
Step 6:Move the downloaded .zip file into that folder.
Last Steps: After it then you will have to run Minecraft after placing the .zip file.
Then You will have to Open Minecraft.
You can Enjoy playing this Resource Pack.
Note:
We do Recommend you to Download and install  OptiFine HD to enhance your gaming experience with Shaders.
Disclaimer:
We also do try to take very good care of the links that will be available here. But sometimes some developers of the Original download links remove their links from the Third Party websites. In that case we will need some assistance from the users in this regard. Please Inform us If you do find some broken links or content in the comments section below. We will try to give you the working links as soon as we can, We are updating these Resource packs regularly and If you do find some broken, fake or any links that will have virus or deleted ones, Kindly let us know in the comment section. We do try to give all the genuine links for every contents that are available here.