Undertale Resource Pack for 1.20.2 – 1.19.4 – 1.18.2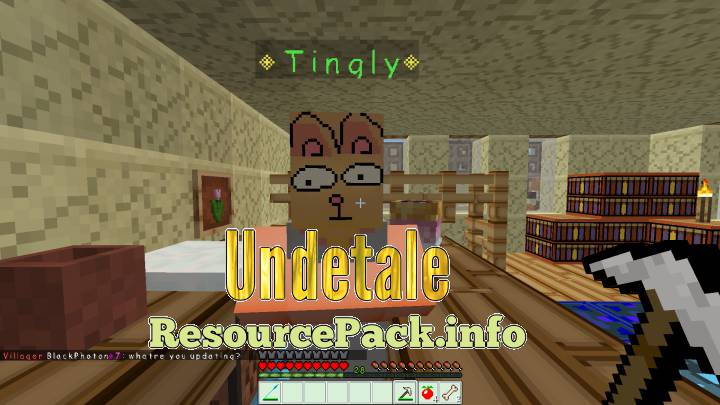 Undertale Resource Pack for 1.20.2 is a very famous Resource pack that most of people knows about it. This Resource pack has a standard resolution of 32×32 and it was started around three years ago and it has been only 70% completed. It was created by Kardiamente.

This Resource pack does an amazing job by capturing the essence of the original game and then replicating into the Minecraft world. It will offer you some different kind of mobs that are usually inspired from monsters and bosses from the RPG themed games. It will have special blocks that will resemble the items of the Undertale. Every item will be changed including items, armor and weapons. Textures will have pretty significant amount of details that will make sure that it will look similar to the style of Undetale's visuals.
Undertale Resource Pack Updatelogs:
Added Armor Icon and Recipe Book Underground.
New Stone Granite and Bookshelf.
Added Nether warts and Diamond Sword.
New Shears and Nether Star.
Improved Pumpkin aspects.
Changed Skeleton and Wither Skeleton.
Changed Arrow item and Apple texture.
Improved Beds and Chainmail armor.
Added Gravel and Sand.
New Oak wood door and Iron Sword.
Screenshots:
Download Undertale Resource Pack for 1.20.2:
For Minecraft 1.13.2:
For Minecraft 1.12.2:
How to Install This Resource Pack:
Download Undetale Resource Pack.
You will get a .zip/rar file for this Resource Pack.
Then You will have to Open the Resource packs folder.
Open the folder where you have downloaded this file.
Copy the downloaded .zip/rar file and then go and open Minecraft.
Click on the options and then open Resource pack.
Then go and open the Resource pack folder.
After it Then move the downloaded .zip/rar file into that folder.
You will also have to open and run Minecraft after placing the .zip/rar file.
Enjoy and Have fun while playing this game.
Note:
We will Suggest you to Download and install  OptiFine HD or MCPatcher HD for this Resource pack.
Disclaimer:
We usually do try to take very good care of the downloaded links that are also available here. But occasionally developer of the Original download links remove their links from the Third party websites. In that situation we will require some assistance in this regard. So Please inform us if you find any broken links or content in the comments section. We will try to have the working links as soon as possible, We are updating these Resource packs regularly and If you find any broken or fake download links or deleted ones kindly comment and also let us know. We also do try to give all the genuine links for our contents.