SugarPack Resource Pack for 1.20.2 – 1.19.4 – 1.18.2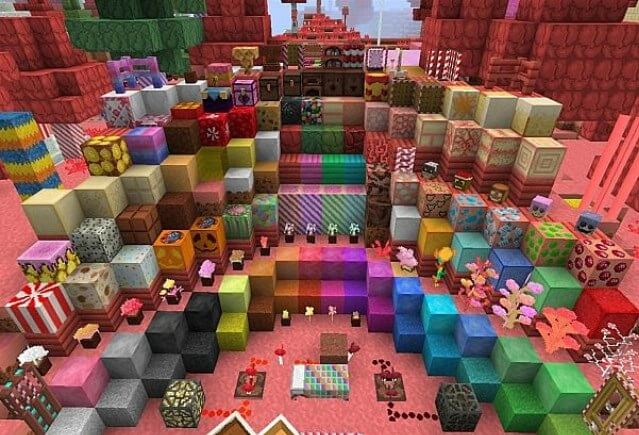 SugarPack Resource Pack for 1.20.2 is a 32×32 Resolution Resource Pack. In this Resource pack everything is re-textured to the theme of candy and sugar. It is designed by Tjardo.
SugarPack Resource pack has many colors in its theme. This Resource pack contains  marshmallow, candyland , gingerbread, environment, font, terrain, items, GUI  and coloured new doors and colourful textures.  It makes your Minecraft bringing your a big sweet candy or confectionery masterpiece world. In This Resource Pack we have Chocolate mountains and Candy mobs and You can build your own factory in this resource pack. You will find a large amount of variety of different candy swords or sweets and Ice cream.  It has candy themed mobs and blocks and many other things. If someone likes cartoonish and colourful textures pack he will enjoy this Resource pack.
SugarPack  Resource Pack Installation Guide:
Download SugarPack Resource Pack.
Download and install the SugarPack Resource Pack.
Must Download and install OptiFine HD or MCPatcher HD for better  display of the game.
Go to Start Menu and then Type %appdata%.
After that then go to Minecraft and then go to Resourcepacks.
Move the Download .zip file into resource packs folder.
Enjoy playing this Resource Pack.
SugarPack Resource Pack for 1.20.2 Download:
For Minecraft 1.14.4:
Minecraft 1.10.2:
For Minecraft 1.7.10:
Note:
You must have install or Download OptiFine HD or MCPatcher HD for this Resource Pack.
Disclaimer:
We usually took very good care of the links which are availible here. But sometimes developers Original links removed from the Third party hosting websites. In that case the links went automatically broken We will require some assistance in this regard. So Please inform any broken or content in the below comments section. We will Rectify that as early as possible