Puffier Pandas Resource Pack for 1.20.3 – Puffy Pandas
APuffier Pandas Resource Pack for 1.20.3 will be a mesmerizing addiition that will throughly enjoy within the game, It will be adding various types of filtired and colorful pandas that will make  your sleepy atmosphere very ge neric, cozy and beautiful. It has aimed to provide this pack for every player that's why it is only 16×16 resolution. This Resource Pack have been 100% completed but will provide some elegant features soon. It have been originally built by its offiical developer named CreeperMax123.
This Resource Pack will be enhancing the default visual appearance of pandas by retexturing them. It will also be providing you various types of more realistic models. Additionally, it offers Super Rare and Namable Variants of these creatures. It includes variety of different variants, such as three naturally spawning rare variants, 78 name-specific variants, and seven secret variants. The named variants consist of El Panda, Chef, Bamboo, Po, Cake, Recruit, and Astro. 20 various types of colored pandas that will enrich your Minecraft world.
Puffier Pandas Resource Pack Recent Changes:
3 Types of Natural Spawning Pandas.
78 Types of Name Specific Pandas.
New Blue and Purple Panda.
Added Chef and Bamboo.
Fixed Green and Cyan Panda.
Updated Brown and Black Panda.
New El Panda and Po.
Cake and Trash Panda are added.
Settings for this Resource Pack in order to make it run correctly:
You will have to do this settings for this Resource Pack.
Options -> Video Settings -> Quality, Make sure that they are on.
Custom Entity Models: On.
Emissive Textures: On.
Random Entities: On.
Required OptiFine to make it work.
Images: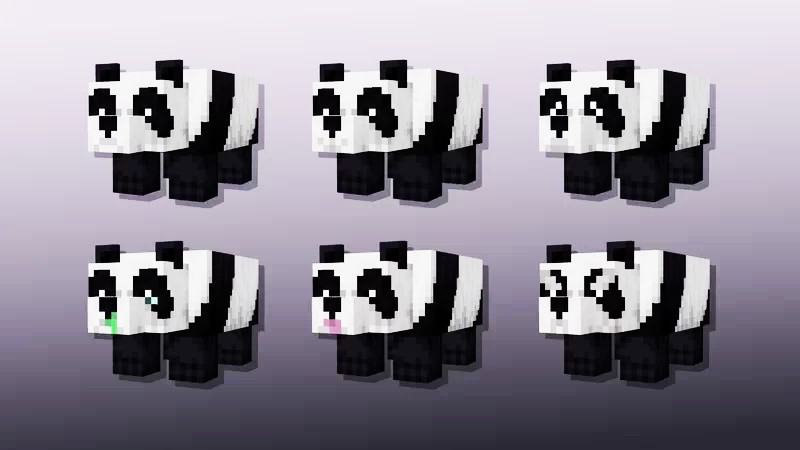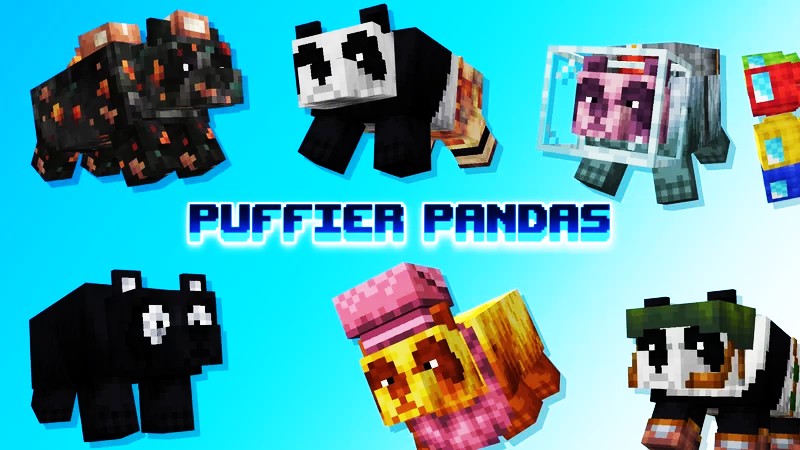 Download Puffier Pandas Resource Pack for 1.20.3:
For Minecraft 1.19.4:
How to Install This Resource Pack: 
Download this Resource Pack.
Unzip the downloaded file.
Open the %appdata% folder on your computer.
Navigate to the .minecraft folder.
Locate the Resource Pack folder.
Move the unzipped Resource Pack file into the folder.
Launch Minecraft and select the pack from the Resource Packs menu.
Enjoy playing with the new Resource Pack.
We Recommend you to Download &  install OptiFine HD for better gaming experience.
Disclaimer:
We look after the links we provide here, but sometimes the links may not work if the developers remove them from other websites. If you find any broken links or content, please tell us in the comments below, and we will try to give you new links that work. We update these resources regularly and only give links that are genuine. We request you to use the comment section, Whenever a link is not working or found deleted.