Five Nights at Freddy's 2 Resource Pack for (1.19.4, 1.18.2, 1.17.1)
Five Nights at Freddy's 2 Resource Pack for 1.19.4 is a survival themed Resource pack. It is also based on a same named game which was previously released a few months back.
This Resource pack is a recreation of Freddy Fazbear's Pizza with the several animatronics and other objects to truly make it cool and creepy creation to explore this Resource pack. If someone doesn't know about the location of this game is taken from Five nights at Freddy's 2 which is a very popular survival horror game. The main thing which makes this Resource pack really awesome is custom textures. Everything in this game including textures is converted into horror mobs to be looked awesome in this game.
Five Nights at Freddy's 2 Resource Pack Changelogs:
Diamond armor is dismantled Freddy Fazbear.
Iron armor is dismantled Bonnie.
Gold armor is dismantled Chica.
Creeper is Toy Chica.
Zombie is Toy Bonnie.
Skeleton is Mangle.
Wither boss is golden freddy.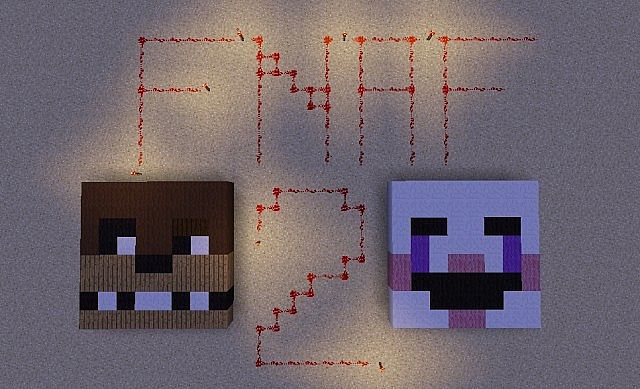 Five Nights at Freddy's 2 Resource Pack for 1.19.4 Download:
For Minecraft 1.8.9:
Five Nights at Freddy's 2 Resource Pack Installation Guide:
Download this Resource Pack
Download and install this Resource Pack
Must Download and install OptiFine HD or MCPatcher HD for better  display of the game.
Go to Start Menu and then Type %appdata%.
After that then go to Minecraft and then go to Resourcepacks.
Move the Download .zip file into resource packs folder.
Have fun and enjoy  playing this Resource Pack.
Note:
You must have to install or Download OptiFine HD or MCPatcher HD for this Resource Pack.
Disclaimer:
We usually took very good care of the links which are available here. But sometimes developers Original links removed from the Third party hosting websites. In that case the links went automatically broken We will require some assistance in this regard. So Please inform any broken or content in the below comments section. We will Rectify that as early as possible. We're updating these Resource packs regularly and If you find any fake links or deleted ones kindly comment and let us know. We do give genuine downloaded links for all Resource packs.