Better Crops 3D Resource Pack 1.20.2 – Realistic Crops in 3D
Better Crops 3D Resource Pack 1.20.2 will be based on a theme for the nature and environment in order to improve them from the default looking crops, flowers and blocks.  This Resource Pack have been 100% completed, It will provide a standard resolution of 32×32. Every crops, blocks and vegetables will be looking detailed, energetic and 3D.
This Resource Pack will be paving way to add various types of detailed models with their textures too. Many types of vegetables that will have their own textures will be potatoes, beetroots, wheat, carrots, glowing berries and many more.  Watermelon and pumpkin have been carefully designed to look unique that will be varying from growth. Carrots and beetroots will have several aspects in their space that will also look very realistic stem with their fruit, It also tries to preserve the natural atmosphere in the game. Wheat color will be saturated to look more golden and spikelets are formed at the second stage. Potatoes will be having beautiful flowers that you'll see in real life. Farmland will be having around 4 moisture levels with their side textures, Before it was 2.
Better Crops 3D Resource Pack Updates for 1.20.2:
New Grass blocks and Path Grass Blocks.
Added Mycelium and Podzol.
Improved Rooted Dirt and Dirt.
Fixed Bottom Pumpkin Textures and Pumpkin.
New Watermelon and Crops.
Updated Animals and Blocks.
Images: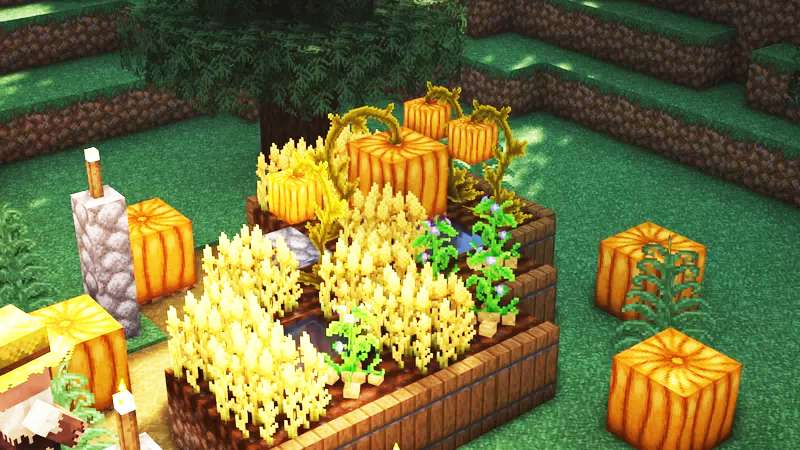 Download Better Crops 3D Resource Pack for 1.20.2 – 1.19.4 – 1.18.2:
For Minecraft 1.18.2:
How to Install This Resource Pack: 
Follow this few simple steps for Installation for any Resource Pack.
Step 1: Download this Resource Pack.
Step 2: You will get a .zip file for this Resource Pack.
Step 3: You will have to open the %appdata% folder.
Step 4: Then you will have to go to .minecraft folder.
Step 5: You will have to go to Resource Pack Folder.
Step 6:Move the downloaded .zip file into that folder.
Last Steps: After it then you will have to run Minecraft after placing the .zip file.
Then You will have to Open Minecraft.
You can Enjoy playing this Resource Pack.
Note:
We do Recommend you to Download and install  OptiFine HD to enhance your gaming experience with Shaders.
Disclaimer:
We also do try to take very good care of the links that will be available here. But sometimes some developers of the Original download links remove their links from the Third Party websites. In that case we will need some assistance from the users in this regard. Please Inform us If you do find some broken links or content in the comments section below. We will try to give you the working links as soon as we can, We are updating these Resource packs regularly and If you do find some broken, fake or any links that will have virus or deleted ones, Kindly let us know in the comment section. We do try to give all the genuine links for every contents that are available here.